No More Relations with US Affiliates, Says Ladbrokes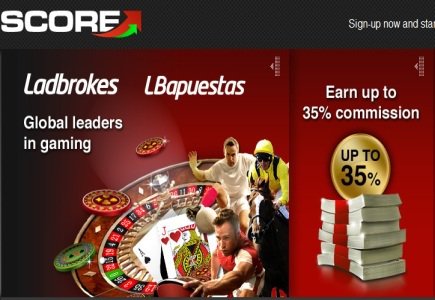 An unexpected advisory came from the UK Ladbrokes group to the US affiliate marketers, informing them of the company&s decision to cut the ties between them by the end of October.
Whether the move was made in ambition to profit on the possible legalization of internet gambling in the United States at some point in the future, remains to be seen. The only thing learned from the email was the following:
"We write with reference to Score, the Ladbrokes and LBapuestas Affiliate Programme in which you are currently participating.
"We regret to inform you that Ladbrokes and LBapuestas have taken the business decision to cease commercial partnerships with all of our affiliates based in the USA.
"In accordance with Clause 12.6 of our terms and conditions (a copy of which can be found at xhttp://www.score-affiliates.com), we hereby provide you with written notice that we are terminating our contract with you with effect from 23:59 on 31 October 2012.
"Of course, all commissions due and payable to you in respect of the period 1 October 2012 to 31 October 2012 will be paid in full in accordance with the terms of our contract with you. This is in addition to all other outstanding commissions due and payable by us to you in accordance with the terms of our contract.
"Please do so by emailing affiliatepayments@ladbrokes.co.uk with your payment details together with a pdf document on your company letterhead with the required authorised signatory on the account.
"Please be aware that with effect from 23:59 on 31 October 2012 the licence granted to you pursuant to Clause 7.1 of our terms and conditions to display the relevant Ladbrokes and LBapuestas brand features and related content will terminate.
"Therefore we kindly request that you remove and refrain from using all Ladbrokes and LBapuestas branding (including, but not limited to, all of our logos, trade marks and trade names) and any other Ladbrokes and LBapuestas content from your website at all times after this date.
"Please also note that access from your website to our score platform will be blocked by us with effect from 23:59 on 31 October 2012 and therefore we also request that you remove all links on your website to the score platform with effect from this date."
But affiliates now wonder what about the residual income generated by regular players that affiliates have already delivered to Ladbrokes – is the company going to cease paying affiliates their share of the business generated by players already brought there, or will it make an offer in compensation – these are the questions whose answers still need answering.